Well friends, here we are again. I have to start by apologizing for denying you, the reader, of all the insight you've grown so accustomed to when I skipped the blog last year. The Bills didn't have a pick in the first round and I guess I felt it was okay to take the year off. Don't worry, the OCD part of me is mad at past me too. Let me bring you up to speed.
First, my war room remains effectively unchanged other than we added another child to it. Molly (my daughter) and Michelle (my life partner) will be joined by Ryan (my son) this year. He doesn't talk much yet, which is probably for the best. Although, since Michelle has learned I will immortalize any stupid comment she makes and Molly will probably do nothing but complain that Teen Titans is not on, a third voice may have been welcomed. Maybe next year.
Anyway, I am sharp as ever, have been doing tens of minutes of research, and the local Dairy Queen remains a beacon of positivity to keep me going through the marathon that is the draft, so I'm as pumped as ever. (See the
chart
from the 2013 blog to see how long that typically lasts)
Also, I'm going to attempt to spice up this year's blog by adding some hard hitting facts that might be partially or entirely made up. Enjoy blog fans, I'll see you all later.
7:55 Well football fans, the time is almost upon us. My kids and their bedtime is going to make the beginning of the draft blog a bit dicey. At least nothing good happens at the beginning of the draft. Ugh. Anyway, as they have been for the last month or so, the Los Angeles Rams are on the clock.
Fun Fact! The Rams were moved to Los Angeles because rams (the animal) do not like rain and on average it rains about three times less in Los Angeles and it just fit better thematically.
8:06 My war room is a madhouse already. My kids are jumping around and screaming. They are more into the draft than I would've expected. Is it bedtime yet? Also, why does the team that traded a mint to get the first overall pick sit around and wait until the last minute to announce their pick? Are they really expecting an offer to come to them that would be more than they gave away?
Also, since I'm posting anyway, I won't be on Twitter or any other social media tonight because it makes the viewing experience anticlimactic. I'm sure you were wondering.
8:15 Finally. Each team gets ten minutes to pick, so naturally the first pick would come in 15 minutes into the draft. QB Jared Goff goes to the Los Angeles Rams with the first pick of the 2016 draft.
Fun Fact! The Eagles sit in a "can't lose" spot in the draft and would have happily drafted whomever of Goff or Wentz was still on the board. However, my sources have told me they were quietly hoping for Goff, because he smells nicer and chose Bulbasaur when asked who he'd select as his starting Pokemon.

8:22
The Eagles surprise no one and take QB
Carson Wentz
. Eagles fans are thrilled and can't wait to boo him.
The Chargers are up next.
Fun Fact! The Chargers are hoping to relocate following the 2016 season because "Whale's Vagina Chargers" is a ridiculous name.
8:29
The Chargers select DE
Joey Bosa
which is way more fun than picking an offensive lineman like all the experts suggested. He seems humble and genuinely touched that he was the first non-QB taken. I like it.
Teeth are being brushed and it's almost bedtime. Then I can really focus on the spectacle that is the NFL draft. And see if I can convince Michelle to get DQ. As is tradition. Next up, Dallas.
Fun Fact! I want to play Super C on the jumbo tron at AT&T stadium. I'd pick Super C over the original because I can totally beat it without cheat codes.
8:35
I'm no poker player, but it looks to me like the Cowboys room is a bit shocked over the Chargers pick. I could be reading a bit too much into nothing, but it look like their guy got taken.
8:38
Fantasy Football Alert! The Cowboys select RB
Ezekiel Elliot
. I imagine he'll be a top two rookie picked in all formats (unless you REALLY need a QB in dynasty). Jacksonville is up.
Fun Fact! The Jaguars were forced to fire their equipment manager after forgetting to paint the front half of their helmets last year and because of this I suspect they'll pick Myles Jack.
8:45
The Jags pick is in and the Ravens are on the clock. I need to help put these monsters to bed, so hopefully nothing awesome happens. The Jaguars choose CB
Jalen Ramsey
.
Fun Fact! The team is named the Ravens because Baltimore was the home of Edgar Allen Poe. I think this one is actually true.
8:53
The first fat guy is off the board. The Ravens pick Tackle
Ronnie Stanley
. I understand offensive line is important, I just can't get excited about them as a fan. 49ers are up.
Fun Fact! Colin Kaepernick lost a job playing football to Blaine Gabbert.
8:58
Just heard the Tunsil news. I have to believe he actually was hacked. And based on that I feel bad for the kid. Everyone makes mistakes, and I know everyone passed all their drug tests at the combine. I'm sure he never thought that pic would be public. I guess maybe that shows a bit of poor judgement, but still. I'd rather not get into the way the NFL treats weed compared to how they treat woman abuse or other problems, but there it is. I guess we'll quickly see how it affects his stock.
The 49ers select DE
DeForest Buckner
.
9:04
The Titans have traded with Cleveland and are on the clock. They select Tackle
Jack Conklin
.
Fun Fact! It's going to be difficult to come up with 32 of these.
Jay Cutler giving the sexy chins
Tampa Bay is on the clock.
9:11
Scratch that. The Bucs traded the pick with the Bears.
Fun Fact! Despite all evidence to the contrary, Jay Cutler did not eat the last doughnut.
9:15
The NFL marches kids onto the stage to convince parents that football is nice and brain damage is overrated. The Bears select LB
Leonard Floyd
.
The Giants are on the clock.
Fun Fact! Regardless of popular belief, there are no actual Giants on the team.
9:22
The Giants select the player with maybe the best name in the draft, CB
Eli Apple
. NOW the Buccaneers are on the clock.
Fun Fact! The same is true of the Buccaneers. There are also no Giants on the Buccaneers.
9:30
Tampa Bay selects CB
Vernon Hargreaves
. Mike Mayock is a bit more critical of the players than I remember in the past. He probably hasn't had a Peanut Buster Parfait yet either.
The Saints are on the clock.
Fun Fact! Still struggling from the effects of the hurricane, the name Katrina remains outside the top 5 girl names in Louisiana.
9:33
Everything sucks. Michelle is claiming she is too tired to get DQ. So I must leave and get my own like some sort of peasant. I leave the blog controls in her hands. This should be a disaster.
9:37
The Saints pick DT
Sheldon Rankins
. I had no idea what DT meant until a second ago. Thank you NFL Netowork.
Miami is on the clock.
Fun Fact! The Dolphin that played "Snowflake" in Ace Ventura: Pet Detective has unfortunately since passed away. He was watching the Simpsons episode where the Dolphins walked on land, attempted it, and was found dead outside his tank the next morning. (This was Donnie).
9:41
I hope there isn't a line at DQ... Wait pick is in.
9:43
Miami picks T
Laremy Tunsil
. I know TE is tight end, what is T? I can't keep up with all this information and update this blog. I don't know how you do it Donnie.
Oakland is on the clock.
Fun Fact! The coach of the Oakland Raiders does not like the Oakland Raiders.
9:50
Oakland picks S
Karl Joseph
. Most boring name ever. Already forgotten. Sorry Karl.
Cleveland is on the clock. So they traded down? I don't get this. My directions from Donnie say Tennessee was next. These guys are so indecisive.
Fun Fact! Johnny Manziel and Josh Gordon would rather party than play NFL football for the Cleveland Browns. Actually, this one is probably true too.
9:55
Damnit. I'm gone ten minutes and Michelle was better at this than me. Well done, babe.
9:57
The Browns take WR
Corey Coleman
. Lions on the clock.
Fun Fact! The Lions are excited to start the process of drafting a historically great player who will waste his entire career in Detroit.
10:01
The Lions select T
Taylor Decker
. He's really good at standing in the way of other big people and will make millions of dollars for it. Wee.
Falcons up next.
Walking around. Dreaming of flying like a penguin.
Fun Fact! Falcons are the worlds only flightless birds.
10:07
The Falcons select Keanu Reeves. Neal.
Keanu Neal
. Safety. Something about the Matrix. Or Speed. Whatever. I'm eating.
Indy on the clock.
Fun Fact! Even though he had a down year in 2015, it is still awesome that Andrew Luck is a big fan of Settlers of Catan.
10:11
The Colts select C
Ryan Kelly
. This is interesting for the Bills. Do they consider QB here? I wouldn't kill them for it. They pick next.
Fun Fact! Having unsuccesfully struggled for years to find a replacement for Jim Kelly, rumor has it the Bills will play with two quarterbacks on the field at the same time.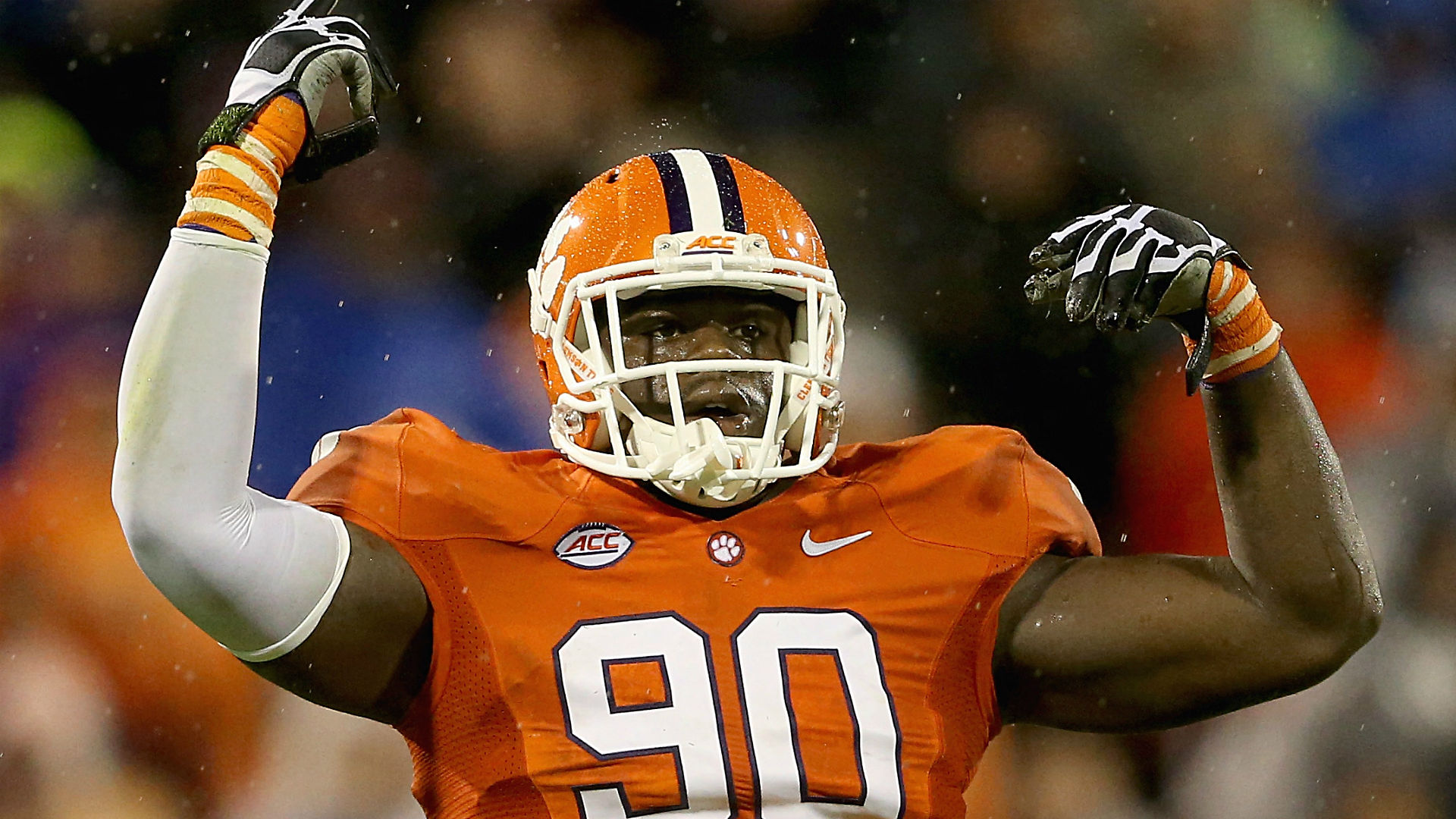 Please be good at football
10:15
I question just how "fired up" Jeff Foxworthy is for the Golden Corral. The Bills pick is in. A lot of interesting players left (Lynch, Jack), but they go with a safer pick in DE
Shaq Lawson
.
The stupid Jets are on the clock. It's funny how one pick could make the difference in me hating or loving a guy like Paxton Lynch.
Fun Fact! Jets fans are big stupid doody heads.
10:23
The Jets chose LB
Derron Lee
. He was interesting to me. Now I'll have to hate him. Ahh well.
The Redskins are on the clock.
Scratch that. The pick has been traded to the Texans.
Fun Fact! Texans GM Rick Smith signed Brock Osweiler to a contract averaging $18 million per year because some men just want to watch the world burn.
10:32
The Texans select WR
Will Fuller
. I feel like the draft is moving slightly faster than in years past. I dunno. Michelle was funnier than me so far tonight, so I must not be feeling it. This is what I get for taking last year off. Maybe adding the fun facts is too much to keep up with. Maybe I should stop typing everything I'm thinking.
Washington on the clock.
Fun Fact! In an attempt to be more sensitive to Native Americans, the Redskins briefly considered changing their name to the Blackskins.
10:38
The Redskins select WR
Josh Doctson
. We are within the last ten picks! I should be watching hockey right now. Why do I agree to do this every year? It should be, Don Live Blogs until the Bills pick and then eats ice cream and goes to bed.
Vikings on the clock. They can't be happy about all the WRs that went off the board. AD and Bridgewater sure could use some other offensive threats.
Fun Fact! If you Google "Fun Fact" (which it changes to "I'm feeling curious"), none of them are all that fun.
10:46
The Vikings select WR
Laquon Treadwell
. There you go.
What kind of egomaniac is Roger Goodell? I mean, Gary Bettman goes out to get boo'd at all the major events, but even he doesn't subject himself to 30+ boos per night and announce every draft pick. And does he really need to hug every player?
The Bengals are on the clock.
Fun Fact! The Bengals are the only team with tiger stripes on their helmet.
10:53
I wonder if someone trades up to get Lynch. You'd have to figure the Broncos would love to him keep falling.
The Bengals select CB
William Jackson III
. The Steelers are up next.
Their pick is already, which bails me out on an unfunny fun fact. The Steelers select Mr. Burns. CB
Artie Burns
.
The Seahawks trade their pick to the Broncos. Maybe I'm not so stupid after all. Although the experts suggest they might want Cook and not Lynch. Broncos on the clock.
Fun Fact! Broncos are horses.
The Make a Wish kid is getting the applause break usually reserved for the troops. Did I miss the troops when I was getting ice cream?
The Broncos select
Paxton Lynch
. I'm a sucker for the emotional guys. It makes me like them right off the bat. It doesn't mean anything though. EJ Manual was pretty emotional at the draft.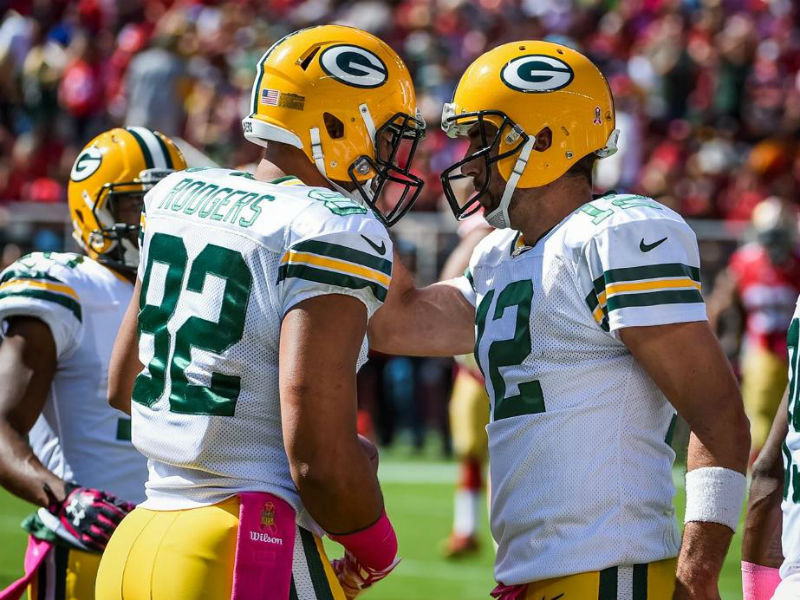 Brotherly love
Green Bay on the clock.
Fun Fact! Richard Rodgers is the only TE in NFL history to catch a touchdown pass from his brother.
11:13
The Packers select DT
Kenny Clark
.
Goddamn another trade. What was I saying about this going quickly? It's going to drag on past 11:30 like every year. The 49ers trade with the Chiefs to get back into the first round. Maybe they go after a QB since...
Fun Fact! COLIN KAEPERNICK LOST A JOB PLAYING FOOTBALL TO BLAINE GABBERT.
11:19
Nope, they pick a fat guy from Stanford. G
Joshua Garnett
. I'm sure he's a nice guy.
I'd say Arizona is on the clock, but everytime I do there is a trade.
Also this is pick 29, the pick where the Patriots would be if they weren't jerks.
11:27
Arizona doesn't get a fun fact. Sorry. There is nothing fun to say about Arizona. The Cardinals select
Robert Nkemdiche
DT. He doesn't fall out any windows after being picked.
Carolina is up next, and then Seattle will put me out of my misery. This is like trying to hit a word limit on an English paper.
Fun Fact! The draft doesn't need to be nearly 4 hours long. I've done fantasy drafts in about the same amount of time and we select like 200 players. I'd be curious to ask a GM if their mind has ever changed eight minutes into a selection from what it was at the five minute mark.
11:33
The Panthers select DT
Vernon Butler
. He might win best dressed. Goodell is still hugging guys he can't relate to in anyway. He looks so old and awkward. Just go away. This isn't about you.
Seahawks on the clock.
Fun Fact! I was going to post a fact about how a "seahawk" isn't even a real bird, but it turns out it is. So I guess you learn something every day.
11:37
While waiting for the last pick, I just thought I'd say I wouldn't mind the Bills going after Cook, Jack, or Henry (the TE) tomorrow. I like talent over need. My guess is they go with a LB.
The Seahawks select T
Germain Ifedi
. Whatever.