No time for a big lead up today. The draft is two weeks later than usual, and to get ready for this blog, I started five minutes after 8. This is going great already.
8:10
Before the first pick is made, I am tasked with a diaper change. I can tell already, this will be a draft for the ages.
8:15
Diaper change is a complete success. Molly and Michelle head out for a bike ride. DE,
Jadeveon Clowney
is selected first overall by the Texans. He cries tears of joy, which is cool. No jokes there. It's cool when the guy you draft seems that happy to be there.
8:17
St. Louis is taking their time. This is a pick many believed would be dealt. As a Bills fan, I hope they go OL. I don't want the Bills to pick a fat guy first, so the more that are off the board at number nine, the happier I'll be. That might be the extent of my actual football talk.
Hey, with all the talk of the players entry music, I missed Clowney's. I'll assume he went with "We Like to Party (The Vengabus)" by The Vengaboys.
8:21
Currently my War Room is going with ESPN. I think in the past I tend to stick with NFL Network. I might change to the NFL network during this commercial. I did. NFL network has less cartoon characters and acquitted murderers.
8:25
YES! The Rams drafted a fat guy, Tackle,
Greg Robinson
. He seems nice too. Nice long hug for mom. Gotta like guys that love their momma. He's got a pretty sick bow tie too. I'll predict now that bow ties might be the big winner tonight. Except maybe Marshall Faulk's; his is a little ridiculous. Greg Robinson sounds a little like Shaq. Maybe that's a big guy thing. Can't speak in long sentences. Body too busy working to keep giant man upright.
8:30
This just in the Jags HAVE a War Room. I like that their owner looks kinda like Super Mario. They make the first "surprise" pick of the night selecting QB,
Blake Bortles
. Mike Mayock actually nailed this pick, so I'll give credit where it's due. This has to be seen as good news for the Bills, who I'm sure have no intention of going QB.
8:34
BILLS TRADE UP! If this isn't Watkins or Evans I might be pissed.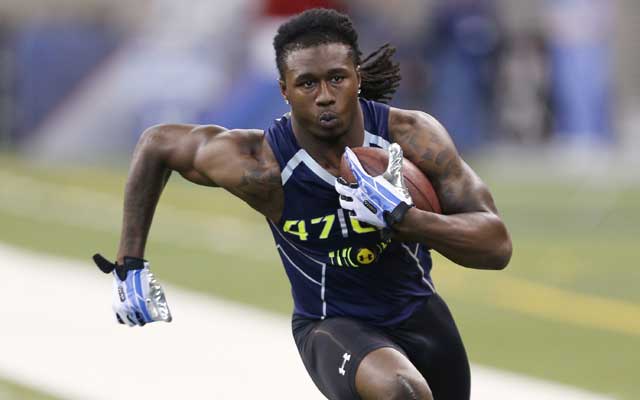 The newest Buffalo Bill
8:37
WR,
Sammy Watkins
it is! I gotta figure Stevie Johnson is out sooner than later. They gave Cleveland a lot to get Watkins so they must believe in him. I'm pumped. It's all on EJ Manuel now.
Now what am I going to do with my time? I imagine I get delirious earlier in this draft than normal.
8:43
Big moment for Buffalo, NY and the University at Buffalo. LB,
Khalil Mack
becomes the earliest draft pick in UB's history by a mile. I feel a little bad that he went to Oakland, but I'm a Bills fan so who am I to talk.
I realize Mack had "Happy" as his walk on music because I heard about that ahead of time. That said, they are really keeping the music quiet. Any thought that someone's choice of song might be a story seems out the window, since it is barely audible on TV.
8:47
My ladies are back, so hopefully I'll have some silliness to pass along soon. This draft blog has been too football related for my own good.
8:52
The Falcons select the second fat guy, Tackle,
Jake Matthews
. Even if the Bills hadn't traded up, I might have liked the look they have right now. The next pick, Tampa's, will be very telling as to what might have been. No regrets though. It's nice the GM shows balls and confidence. Apparently Whaley said in a presser that they expect to make the playoffs now. Good.
8:59
Well there it is. The Bills would've needed to move up to get one of the guys I really wanted, as WR,
Mike Evans
goes to the Bucs. That seemed like a sure thing when they traded Mike Williams to the Bills.
Cleveland trades with Minnesota to move up one pick (the pick the just got from Buffalo). I wonder if they go QB here fearing Minnesota might take their guy.
9:04
Welp...Johnny Football is officially getting the "reaction after every pick" treatment right now. Cleveland drafts the first player in the secondary, CB,
Justin Gilbert
.
9:10
The Vikings select LB,
Anthony Barr
. I have nothing insightful or funny to say about that. It's not the least sexy position ever, but if I am AD, I'd be wondering if they ever plan on letting me play with anyone.
9:13
Barry Sanders announces the Lions draft pick, TE,
Eric Ebron
. Not surprisingly, Twitter, is way ahead of the TV networks. I guess I should get off of there if I want to enjoy this at all.
9:22
Tennessee drafts Tackle,
Taylor Lewan
. I'm sure that will put them over the top. I'm so glad my team didn't pick an offensive lineman tonight. Drafting an offensive lineman is like getting socks on Christmas. Sure you need them, but you can only get so excited about socks.
This draft is starting to feel like socks to me. I want Johnny Football to keep slipping until he loses his shit and starts flipping tables or something. Where is Joe Namath? He's always good for a nice uncomfortable moment.
9:27
It's really starting to feel like Dairy Queen o'clock. It's the winning-est tradition of my draft recap career.
9:31
The Giants pick WR,
Odell Beckham
. I totally nailed a bed time story with Molly. It was about rabbits taking over Sesame Street. Turns out they were Big Bird's, and he is just a negligent pet owner. They marched in a pride parade or something at the end. I dunno, I was reading but only half paying attention.
9:35
The Rams select DT,
Aaron Donald
. They are a team that is getting good at a tough time. They could be really really solid next year and still finish 8-8 because their division is totally brutal. Who would've ever thought that about the NFC West?
9:39
DQ time. Hopefully nothing awesome happens. BRB sports-fans.
10:10
Quick recap... The Bears take CB,
Kyle Fuller
. The Steelers select LB,
Ryan Shazier
. The Cowboys take not Johnny Manziel, Tackle,
Zack Martin
. The Ravens pick LB,
CJ Mosely
and the Jets take Safety,
Calvin Pryor
. So I'm guessing my peanut buster parfait was the sexiest pick of that group.
10:17
Michelle is doing actual schoolwork and thus not making any draft-related comments I can make fun of. The Dolphins select Tackle,
Ja'waun James
. That has to be exciting to have to draft a fat guy because your other fat guy was bullying another one of your fat guys.
Steve must be excited, the Saints have traded up. Any way they go QB of the future here? My guess is no.
10:22
The Saints have selected WR,
Brandin Cooks
. I heard of him about two hours ago, but that doesn't mean anything negative about him. Seems like the right move for a team built to win now. They aren't exactly hurting in the size department with Colston and Graham.
10:34
A guy named
Ha Ha Clinton-Dix
a safety, just got drafted by the Packers. He wore a bright red suit jacket that makes him look like a movie usher. The NFL guys seem to think that he has "swag". I guess with a name like Ha Ha, you learn to live outside the box.
10:41
Browns move up, this has to be Manziel, right?
10:42
Sure enough, QB,
Johnny Manziel
is selected 22nd overall by the Browns, who have had a pretty awesome draft.
This blog needed more pictures. I google'd "random picture".
10:52
I'm sure DE,
Dee Ford
is a good player, but when he was selected by the Chiefs, I've never heard such a non-reaction from the crowd. I guess that's what you get following JFF. Does anyone care about the rest of the draft? I'm hoping the bills trade their second and third to move back into the first round to take a fat guy or giant TE. Get it all done in one day. If they hypothetically did something like that, do they still send people to radio city to sit around?
10:58
The Bengals select CB,
Darqueze Denard
. Weeeee.
11:03
The Chargers select CB,
Jason Verrett
.
11:08
Did I miss the troops during my DQ run?
11:09
The Eagles pick is not a crowd-pleaser. Fans pretend to be excited to be drafting LB
Marcus Smith
.
11:12
I think I might hate the draft. It's all build up with little payoff. About the most exciting thing that could happen DID, with the Bills this year, and as a whole I am still bored by the draft. I watch it like I watch something like the Oscars. I haven't seen most of the movies, but I feel like I need to watch in case something culturally significant happens. But at least at the oscars I know 90% of the people on stage. Now I am supposed to get excited about the Arizona Cardinals pick? Okay.
11:15
The Cardinals take Safety
Deone Bucannon
, yes!!!!
11:20
The Panthers quickly select WR,
Kelvin Benjamin
, as they decided playing without any WRs would probably be bad.
11:23
The Patriots select DT
Dominique Easley
, not surprisingly, it is seen as a BRILLIANT pick.
11:28
"They could use a 5 technique" -Mike Mayock with regards to the 49ers upcoming pick. Yeah, I was thinking exactly the same thing.
11:30
49ers select Safety,
Jimmie Ward
. I have resorted to twitter rather than waiting for TV because I could not care less at this point.
11:34
The Broncos select CB,
Bradley Roby
. Thank god this is almost over.
Whoa, some pretty crazy lightning and thunder (why don't we say it like this? It makes more sense chronologically) in the 716.
11:39
The Seahawks close out round one with...oh fuck me they traded the pick. Thanks for nothing Seahawks. Vikings get the pick. It has to be a QB. For Adrian Peterson, I hope it is a QB. Mayock suggests they'd have to admit Ponder was a mistake two years ago. Really?
11:44
QB,
Teddy Bridgewater
is the last pick of the first round. Good for the Vikings. Good for Teddy. I like that move.
Thank god this is over. Nothing I said was funny this year. Read this thread for people more creative than myself:
http://www.reddit.com/r/nfl/comments/25339n/2014_nfl_draft/
Superbowl. Goodnight.